Crisis Care
For Life Threatening Emergencies or for Crisis Care needs 24/7:
Call (949) 824-6457 and select Option # 2. You will be transferred to a crisis support line
_________________________________
Crisis Text Line
Text "Home" to 741741
Call National Suicide Prevention Line at
1-800-273-8255
Call UCI Campus Police at
(949) 824-5223
Call 911
Go to your nearest Emergency Room
Counseling Center Open House and Art of Healing Showcase
Join the Counseling Center for our annual Open House and Art of Healing Showcase. Learn more about Counseling Center services and resources, take in and enjoy the creativity of our UCI students by walking through the Art of Healing Showcase, enjoy refreshments, and chances at free give-aways!
Thursday May 19th from 4-6pm in our Annex 1 and Annex2 locations (4th floor of Student Center)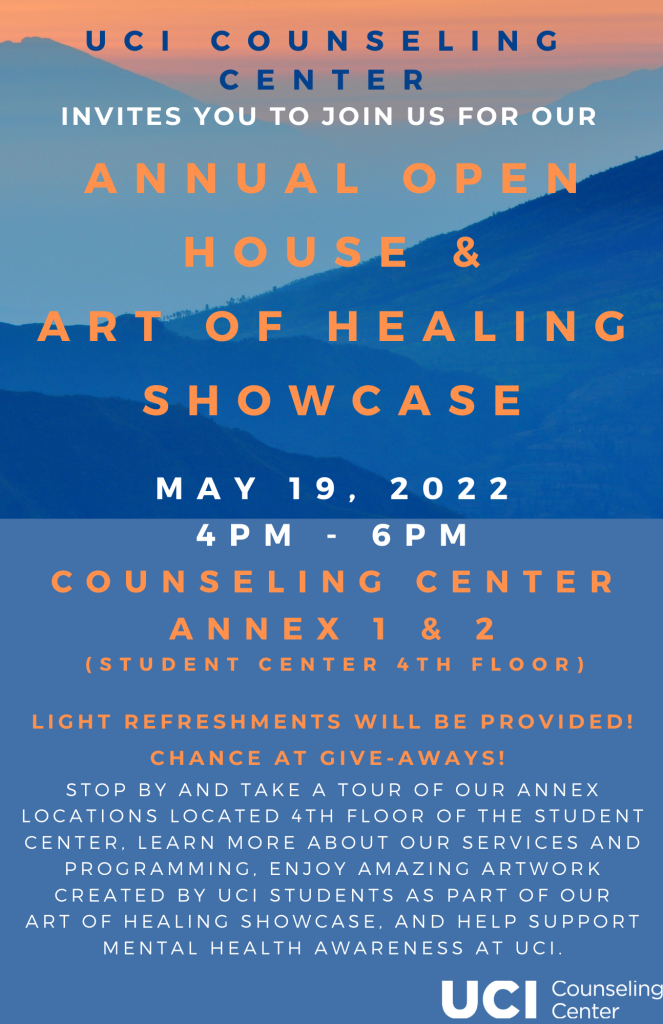 Mental Health Awareness Month Programs
Join us for one of our amaing Mental Health Awareness Month Programs! Check out the flyer below for dates, times, locations, and additional details for the various programs offered this month!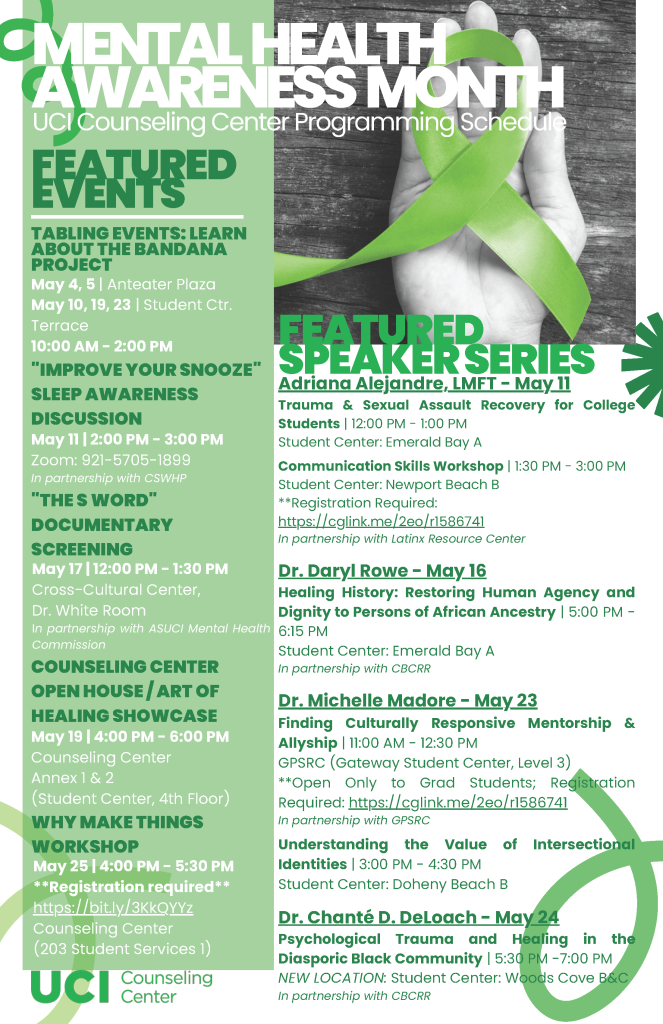 S Word Documentary Viewing and Discussion
May 17th 12pm-1:30pm
Dr. White Room Cross Cultural Center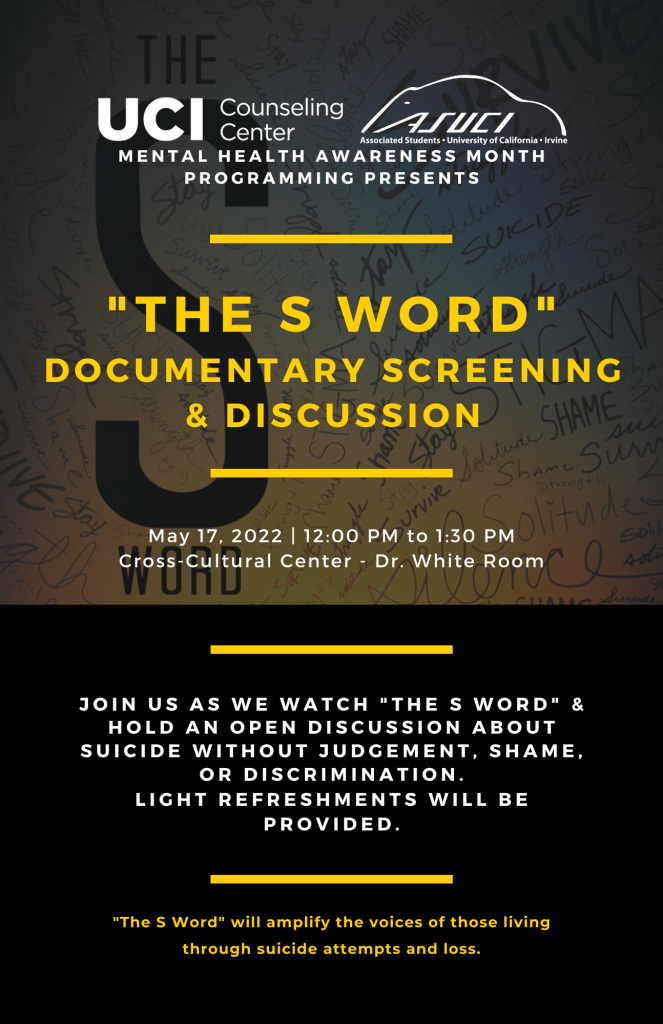 Mental Health Awareness Month Featured Speakers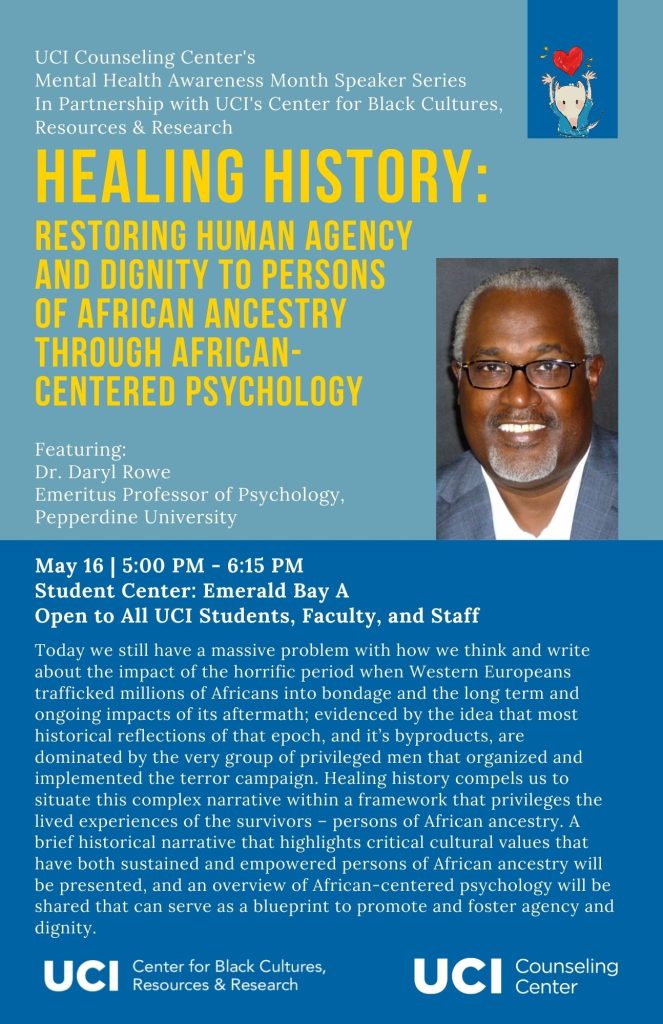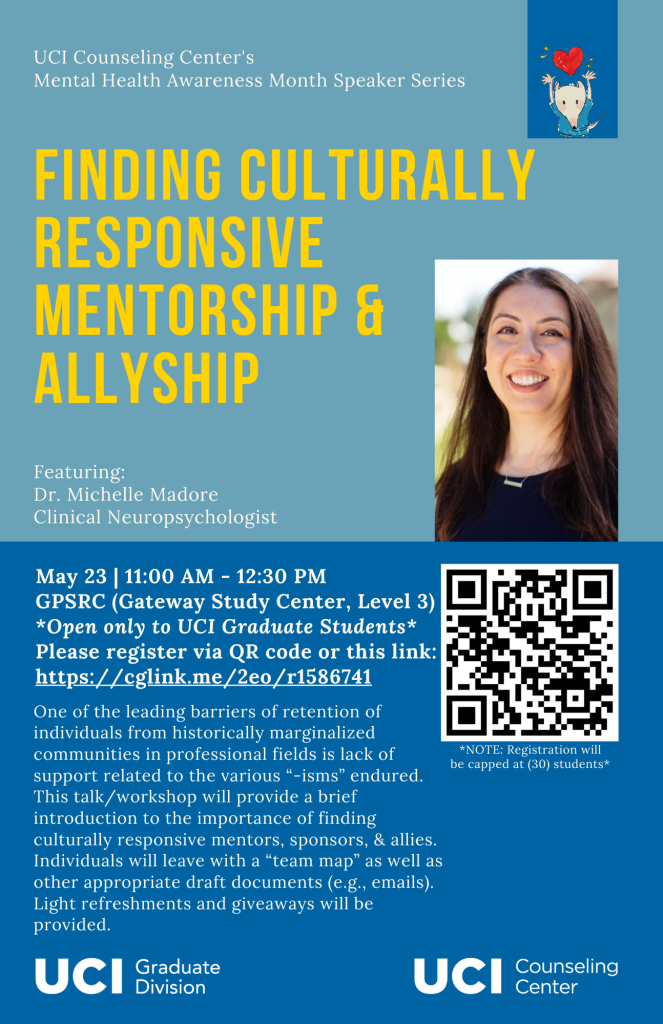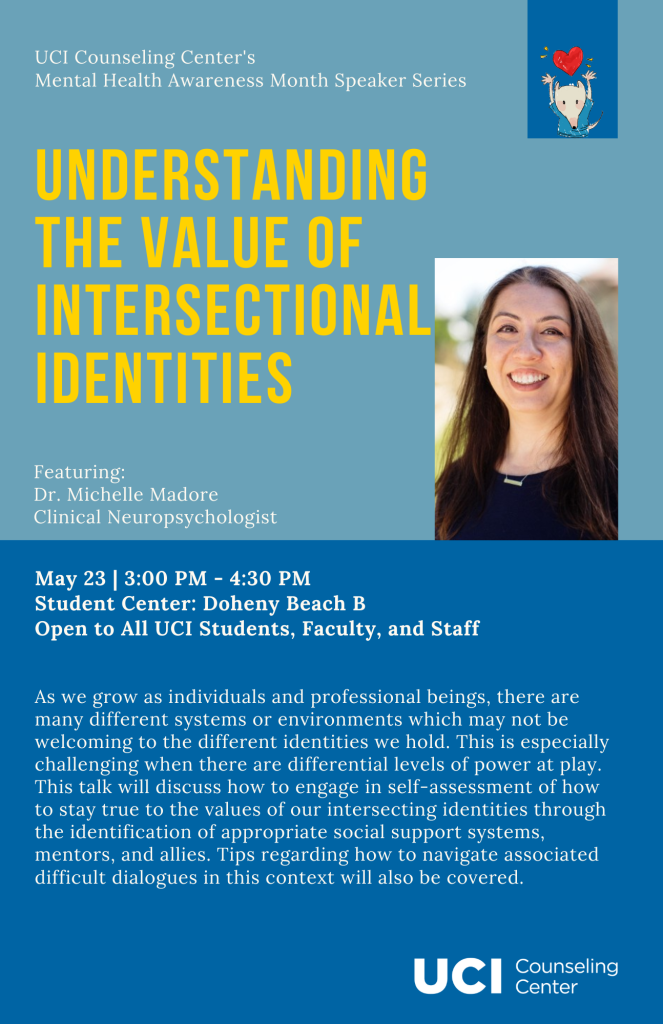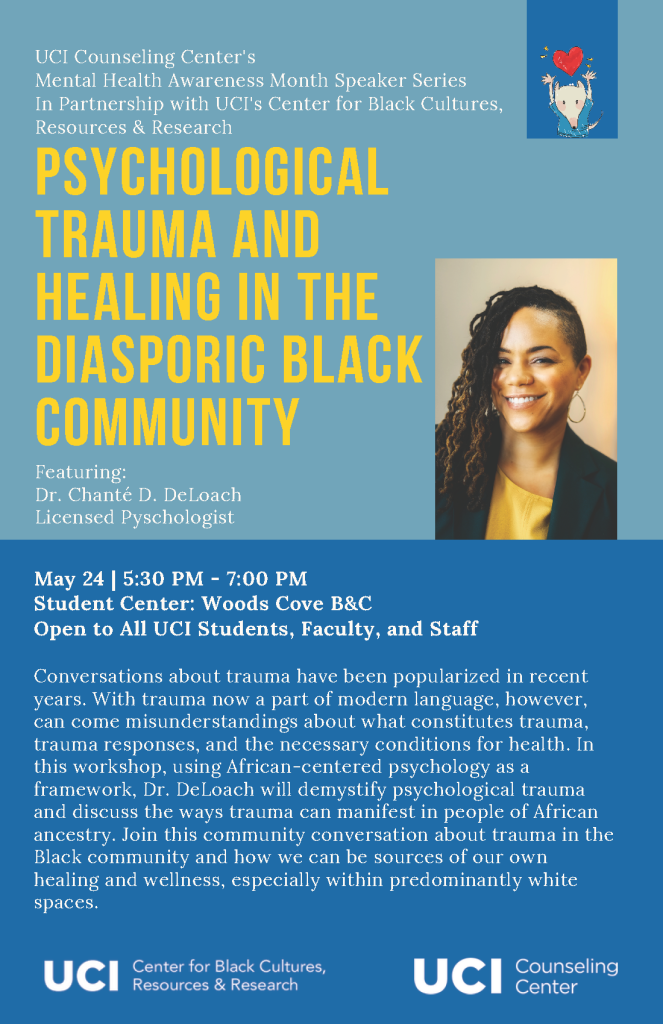 Why Make Things Workshop Series
This is a 3-part 90 minute workshop series on the benefits of being engaged with a creative practice are similar to the benefits of a mindfulness practice, which is part of the focus of
Part I – Happiness, Emotion Regulation and Flow. 
Part 2 – Function, Repair, Heal focuses again on the self-care and healing aspects of making things by hand, and also explores ways  to incorporate sustainability practices into making through upcycling, reusing, and learning to repair damaged belongings rather than replacing them with new items. 
Part 3 – Advocacy, Connection and Belonging explores the use of handmade crafts as methods of advocating for social justice as well as ways to find connections with others. 
This workshop series is provided upon request. Each workshop can be requested individually or as a whole series. ALL of the materials that will be needed for the workshops will be provided thanks to the Equity in Mental Health funding.  All that is needed to be supplied is a room that is large enough for all participants to sit comfortably at tables (so they have a surface to work on) and a projector so I can show my slides. 
These are experiential workshops; I will teach an embroidery activity (instruction on how to use the materials as well as learning a basic stitch or two) in the first 30 minutes of the workshop, then participants will continue to work on their projects as I deliver the content of the workshop for the next hour.  My hope is that participants will experience some of the benefits of making by hand by engaging in the activity, and will leave the workshop with new ideas and some practical methods of caring for themselves as they navigate their way through being students at UCI.  Please feel free to reach out Jessica Eldridge (jessica.eldridge@uci.edu) if you have any questions or would like to talk further about the series or how it might be implemented in your space or student group.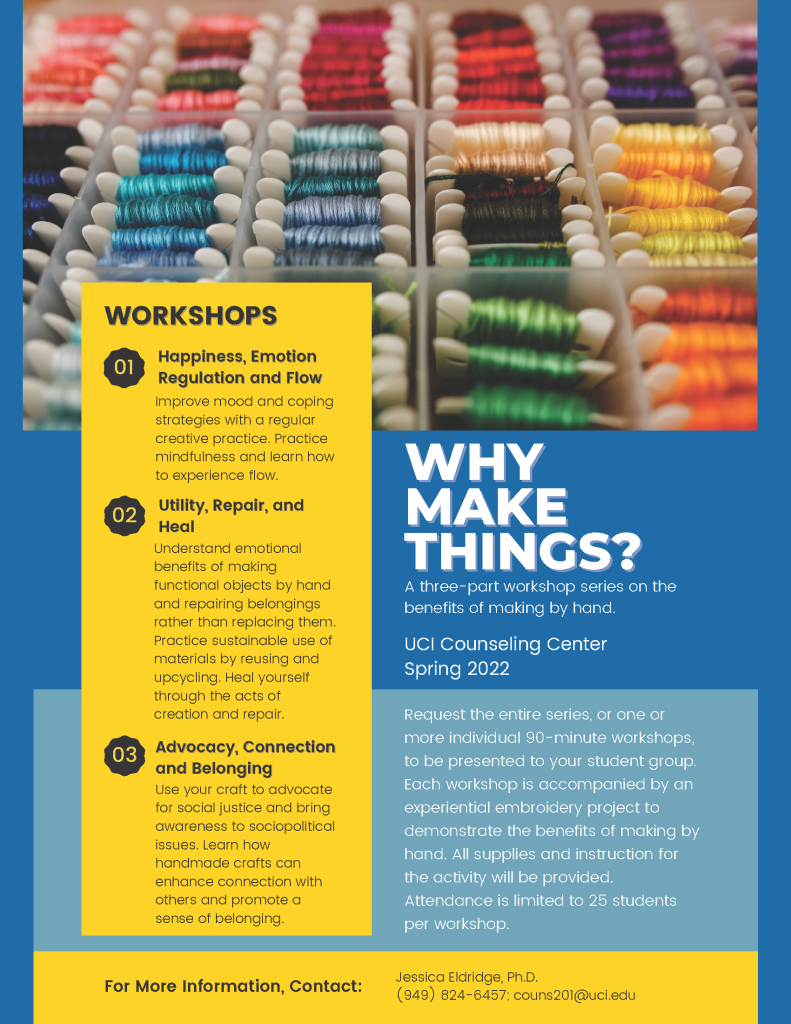 Have SHIP? Need help finding referrals off campus?
Have SHIP Insurance?
Looking for off campus therapy referrals? Then stop by this drop-in space every Tuesday from 2-3pm through the spring quarter to speak to one of our case managers. This drop in space is being held via zoom: Meeting ID 985 3237 1933.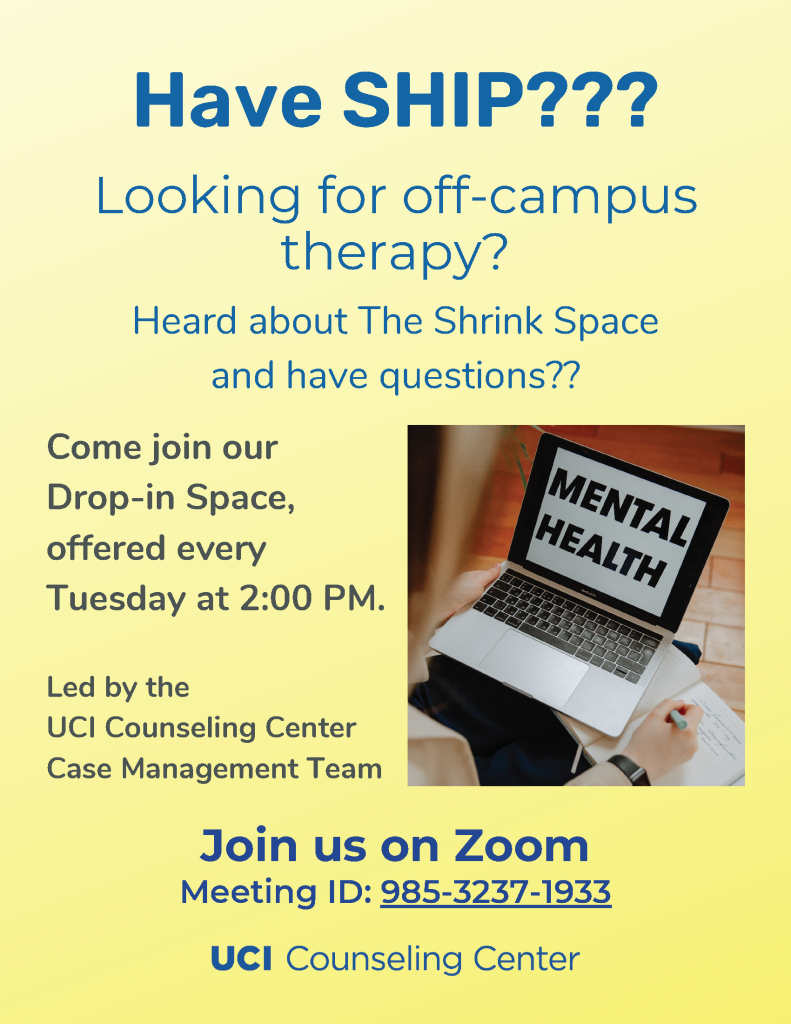 Are you struggling with your relationship with food? In honor of National Eating Disorders Awareness Week that occurs Feb. 21st- Feb. 27th here are 7 tips that will help you improve your relationship with food:
1. Be aware that there are NO "good" foods and "bad" foods. All foods provide nutrition and sustenance to the body and our bodies need protein, carbohydrate, fiber, and even sugar and fat to survive. All foods are good if you eat a variety of foods to get all of the nutrients that you need in moderation….
It is getting closer to the holiday break and the end is in sight! Soon we will be with family and friends and getting some much-needed relaxation after the start to the quarter! Phew!
While this time can be something to look forward to, it is important to still be aware of caring for your mental health. Here are some things to consider as we reach the end of the year!
It is natural to feel stress, anxiety, grief, and worry during and after an emergency like the COVID-19 pandemic and continued concerns around anti-Black and anti-Asian violence and discrimination. Everyone reacts differently, and your own feelings will change over time. Notice and accept how you feel. Taking care of your emotional health during an emergency will help you think clearly and react to the urgent needs to protect yourself and your loved ones. Self-care during an emergency will help your long-term healing.