Crisis Care
For Life Threatening Emergencies:
Call 911
Or go to your nearest Emergency Room
_________________________________
For other crisis needs 24/7:
Call (949) 824-6457 and select Option # 2
    ♦   Or 1-866-817-9842
    ♦   Text "Home" to 741741
Mental Health Resource Fair
Mental Health Resource Fair- February 21st from 11am-2pm in Pacific Ballroom. This is a mental health resource fair making students aware of campus and community mental health and wellness resources. We will have over 28 vendors in attendance. Students will have a chance at raffle prizes and other give-aways. This is a partnership between Counseling Center, Center for Student Wellness and Health Promotion, Office of Campus Social Work, and a community partner called Connect OC.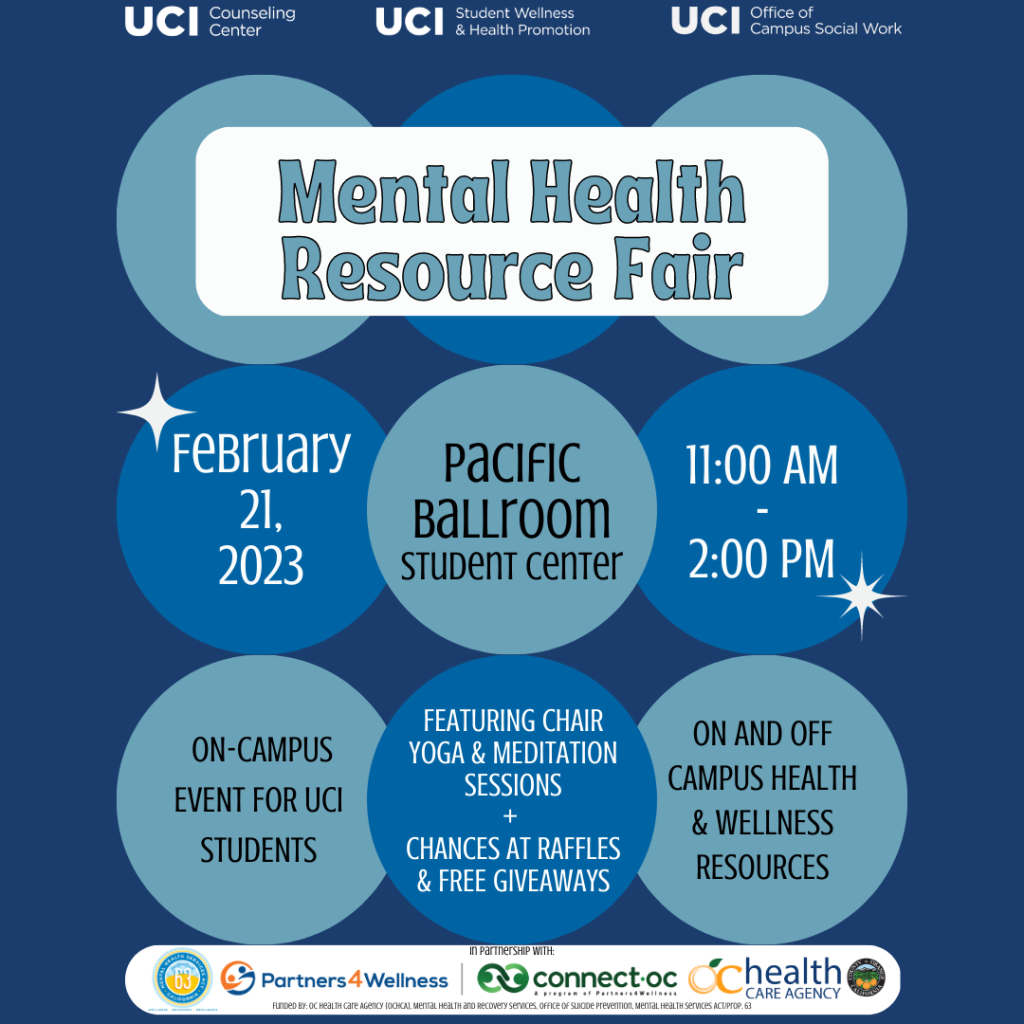 Cultural Empowerment and Leadership Development Summit
Cultural Empowerment and Leadership Development Summit -March 25th and 26th from 9am-5pm in the Cross Cultural Center. A summit focused on providing students with workshops around the topics of diversity, culture, and community. Students will receive a cultural empowerment certificate for completing the two day summit. Breakfast, Lunch, and snacks will be provided both days. Limited space available so reach out today to register.  This program is a partnership between the Counseling Center and the Cross Cultural Center. Several other departments will be providing workshops for this summit including LGBT RC, CBCRR, LatinX RC, DSC, and other collaborating presenters.
Why Make Things Workshop Series
Why Make Things? is an experiential workshop series developed to promote handmade crafts as not just hobbies but also as techniques for coping with and participating in life. With embroidery as the medium, each workshop targets a different reason for why making things is beneficial.
Workshop 1, Stitch to Heal: Addresses making as a technique for managing emotions, promoting authenticity of the self, increasing well-being, and experiencing the flow state. Learn how to answer the question "Why Make Things?" regarding wellness and self-care.  Learn to recognize signs of the stress response and activate the relaxation response, and how making by hand can activate the flow state. We will explore the importance of play in the lives of humans, and how play makes you authentically you.  Participants are invited to consider the act of making by hand as a form of mindfulness and an act of self-care, helping practitioners slow down and be authentically present in the moment.
Workshop 2, Stitch to Repair: Explores the magnitude and impact of pollution from the fashion industry and introduces sustainable alternatives to fast fashion, including ways to repair and extend the life of clothing.  Explore fast fashion culture, how it began, what sustains it, and its impact on the planet.  Learn how to recognize fast fashion brands what you can do to push back against textile waste.  Stitches taught in this workshop are darning and sashiko, each used to repair and reinforce clothing to lengthen its life and decrease the need for replacements.
Workshop 3, Stitch to Advocate: Highlights making by hand as a way to advocate for social justice.  Crafting, specifically fiber arts, provides an avenue for people to use their voices to bring awareness to and/or express dissent with issues. It is a way to feel connected with one's authentic self and to ground oneself in times of chaos, and a way to bring people together and express the strength of their collective voices. Examples of "craftivism" (activism through craft) will be explored, and participants are invited to consider ways to express their voices through the embroidery project associated with this workshop.
Workshops can be requested individually or in a group of any 2 or all 3.  Participants will be provided with materials (embroidery tools including needles, fabric, embroidery floss, embroidery hoops) and instruction on how to use them as well as how to do 1-2 embroidery stitches. Participants are invited to plan and begin work on a simple embroidery design during the workshop, and are expected to continue working on their projects as the workshop is presented.
Intentional time in the workshop is devoted specifically to introducing the materials and teaching the stitches. NO experience is necessary, and students who do not consider themselves creative and/or who have no previous experience with sewing or needlework of any kind are particularly invited to give this a try. We will focus on coping with anxiety and building frustration tolerance, and learn to appreciate mistakes and imperfection in handmade work. Fear and self-consciousness, frustration and self-doubt are crucial parts of learning new things and your experience of these feelings in this context means that you are on the right track!
For more information or to book a workshop, please reach out to Dr. Jessica Eldridge jessica.eldridge@uci.edu.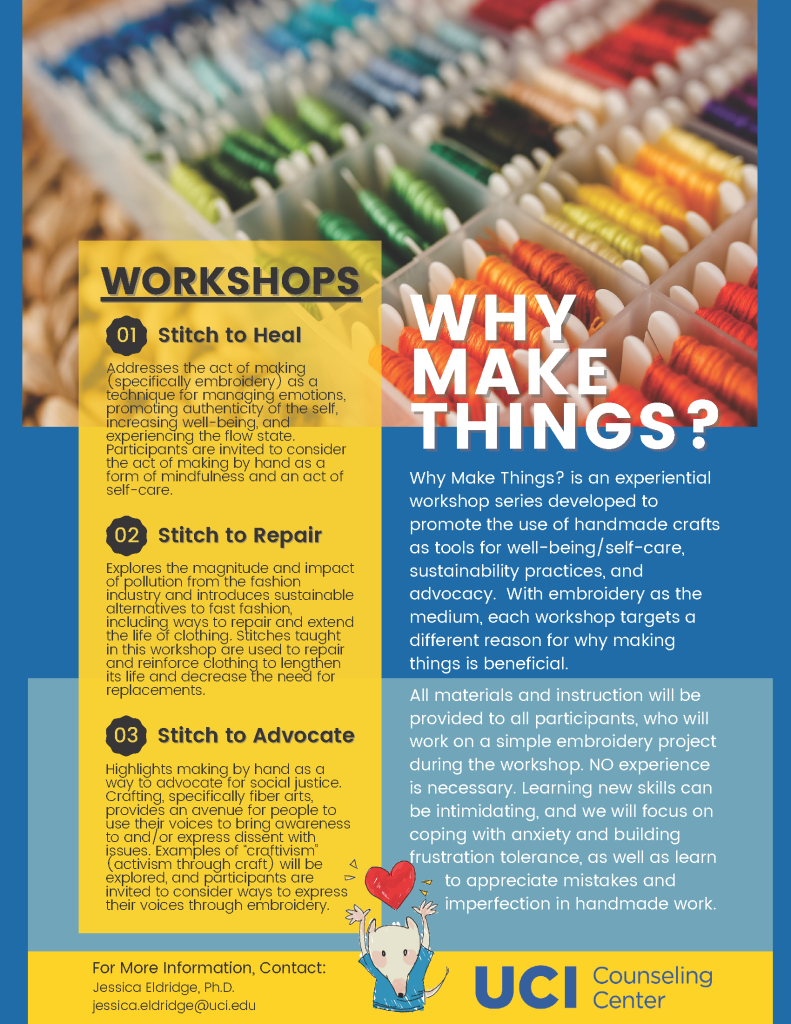 Beyond Ring Road: A Workshop Series for Graduating Students
As you get closer to the the end of your journey as a UCI student, it can be stressful figuring out what to do after graduation. We invite you to join the Counseling Center, Alumni Association, and Division of Career Pathways for a workshop series designed to help students prepare for graduation and how to navigate life after UCI.
It is getting closer to the holiday break and the end is in sight! Soon we will be with family and friends and getting some much-needed relaxation after the start to the quarter! Phew!
While this time can be something to look forward to, it is important to still be aware of caring for your mental health. Here are some things to consider as we reach the end of the year!
Summer is a great time to reflect on all the things you have done and learned along the way, and to also consider what areas you would like to grow into as you transition into the next academic year.
Take time to reflect, and perhaps even journal out your thoughts:
Are you struggling with your relationship with food? In honor of National Eating Disorders Awareness Week that occurs Feb. 21st- Feb. 27th here are 7 tips that will help you improve your relationship with food:
1. Be aware that there are NO "good" foods and "bad" foods. All foods provide nutrition and sustenance to the body and our bodies need protein, carbohydrate, fiber, and even sugar and fat to survive. All foods are good if you eat a variety of foods to get all of the nutrients that you need in moderation….