Crisis Care
For Life Threatening Emergencies:
Call 911
Or go to your nearest Emergency Room
_________________________________
For other crisis needs 24/7:
♦   Or 1-866-817-9842
    ♦   Text "Home" to 741741
Friends Helping Friends seminars, presented by the UC Irvine Counseling Center Peer Educators, provide psycho-educational advice and training for students who are interested in increasing their social, self-management and helping skills. The seminars, covering a wide range of topics, will assist you in developing skills that will enable you to identify and support a friend in distress. There is no cost for this program and it is open to all UC Irvine students.
Students who attend a minimum of five (5) psycho-educational seminars will receive a Friends Helping Friends certificate and will be honored at an awards ceremony.  The Friends Helping Friends seminars are normally held during spring quarter each year.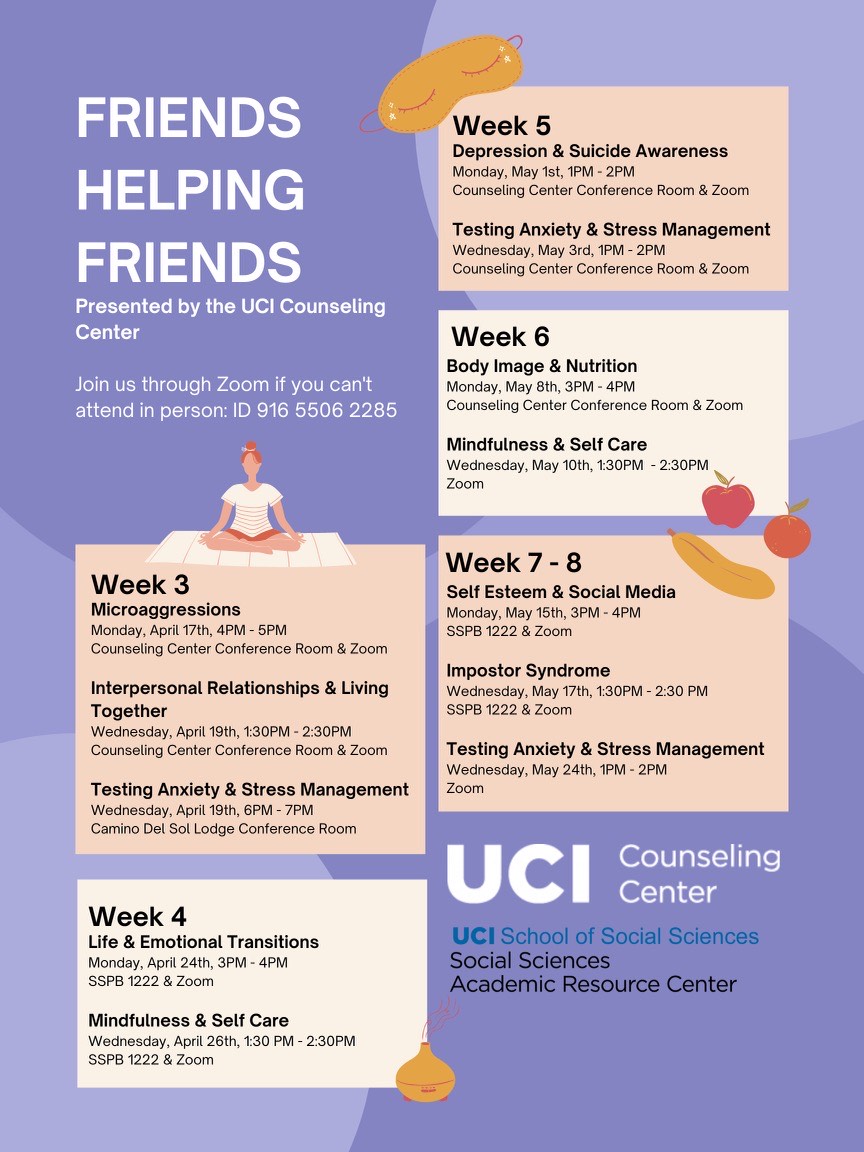 It is getting closer to the holiday break and the end is in sight! Soon we will be with family and friends and getting some much-needed relaxation after the start to the quarter! Phew!
While this time can be something to look forward to, it is important to still be aware of caring for your mental health. Here are some things to consider as we reach the end of the year!
Summer is a great time to reflect on all the things you have done and learned along the way, and to also consider what areas you would like to grow into as you transition into the next academic year.
Take time to reflect, and perhaps even journal out your thoughts:
Are you struggling with your relationship with food? In honor of National Eating Disorders Awareness Week that occurs Feb. 21st- Feb. 27th here are 7 tips that will help you improve your relationship with food:
1. Be aware that there are NO "good" foods and "bad" foods. All foods provide nutrition and sustenance to the body and our bodies need protein, carbohydrate, fiber, and even sugar and fat to survive. All foods are good if you eat a variety of foods to get all of the nutrients that you need in moderation….