Crisis Care
For Life Threatening Emergencies or for Crisis Care needs 24/7:
Call (949) 824-6457 and select Option # 2. You will be transferred to a crisis support line
_________________________________
Crisis Text Line
Text "Home" to 741741
Call National Suicide Prevention Line at
1-800-273-8255
Call UCI Campus Police at
(949) 824-5223
Call 911
Go to your nearest Emergency Room
Looking for long-term therapy off-campus?
UCI Counseling Center has partnered with The Shrink Space: https://uci.theshrinkspace.com/
Search the tailored directory of off-campus therapists specializing in mental health!
Message providers directly through the website to request appointments.
Sign-up as a student and create a FREE account to access the full functionality.
*For students with SHIP, once logged in to The Shrink Space and you're on the search results page, set the drop-down menu "In Network Insurance" to "Anthem" and make sure to select "APPLY".
Students with SHIP must contact the Student Health Center Insurance Office for authorization PRIOR to attending any off-campus appointments: 949-824-2388.
Need help using Shrink Space and finding an off-campus provider?
Join this free drop in space every Tuesday from 2-3pm via zoom to meet with one of our case managers to go over Shrink Space and help you find a community provider.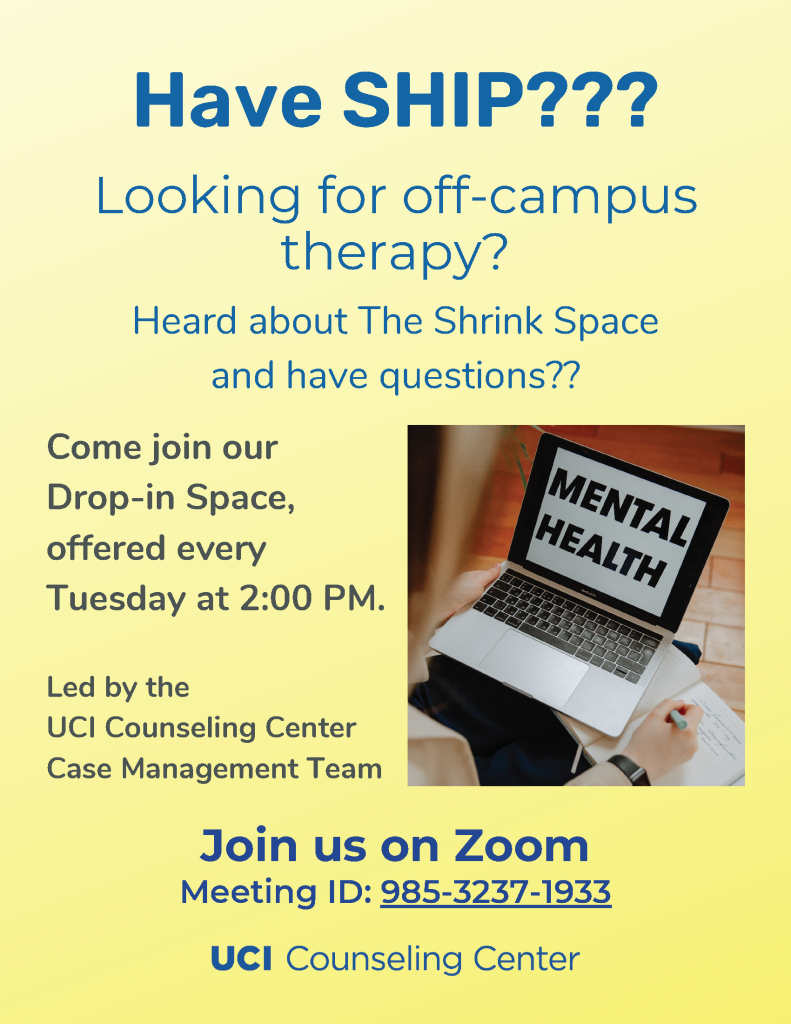 Are you struggling with your relationship with food? In honor of National Eating Disorders Awareness Week that occurs Feb. 21st- Feb. 27th here are 7 tips that will help you improve your relationship with food:
1. Be aware that there are NO "good" foods and "bad" foods. All foods provide nutrition and sustenance to the body and our bodies need protein, carbohydrate, fiber, and even sugar and fat to survive. All foods are good if you eat a variety of foods to get all of the nutrients that you need in moderation….
It is getting closer to the holiday break and the end is in sight! Soon we will be with family and friends and getting some much-needed relaxation after the start to the quarter! Phew!
While this time can be something to look forward to, it is important to still be aware of caring for your mental health. Here are some things to consider as we reach the end of the year!
It is natural to feel stress, anxiety, grief, and worry during and after an emergency like the COVID-19 pandemic and continued concerns around anti-Black and anti-Asian violence and discrimination. Everyone reacts differently, and your own feelings will change over time. Notice and accept how you feel. Taking care of your emotional health during an emergency will help you think clearly and react to the urgent needs to protect yourself and your loved ones. Self-care during an emergency will help your long-term healing.